FIELD DAY OF THE PAST
The USS Virginia Base has sponsored a display at the Field Day of the Past
every year beginning in 2013. This is a Team Anderson (Bill, Curtis & Sandi) initiative that the Base has consistently voted to fund every year because it's a great way to show support for our beloved submarine service and also recruit new Base members.
Here's a photo of our very first 2013 display: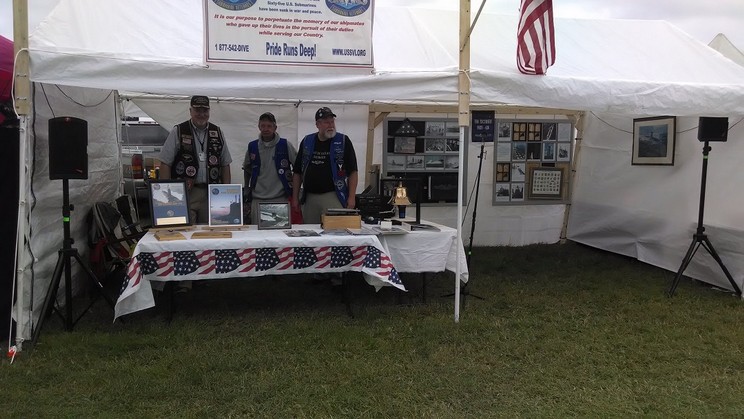 Left to right that's Kenn McDermott, Bill Wellner & Bill Anderson
And here's a photo of our 2016 display with our new Brow Skirt mounted:
And here's a photo of the Saturday crew at the 2017 FTOTP
Left to right: Curtis Anderson; Bob Kutzenberger; Chris Knaggs, Kenn McDermott (the BC who forgot his sub vet vest); Tom Jones; Bill Anderson and John Lamsens
And here's a photo of a watch section at the 2018 FTOTP
Left to right: John Williams; Bill Anderson; Al Ptasznik; Tom Jones & Rec Stanbery
And here's a photo of a watch section at the 2019 FTOTP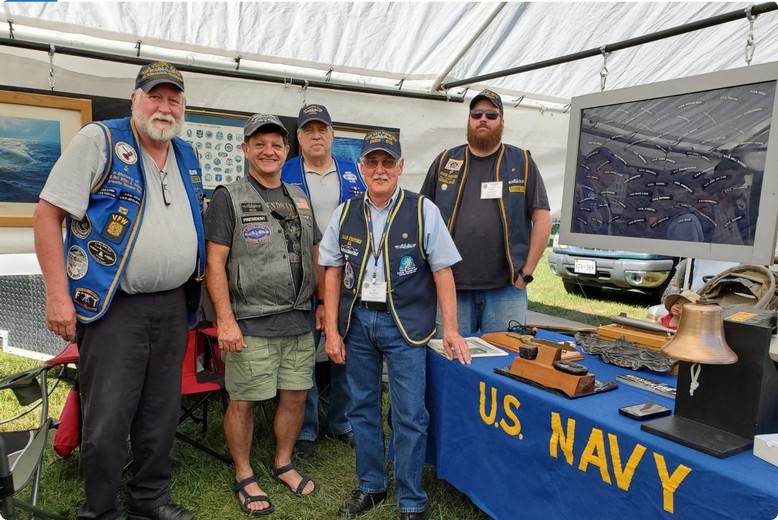 Left to right: Bill Anderson, Bob Post; John Williams; Al Stafford & Curtis Anderson
Bravo Zulu to all ten of our 2019 watch standers: Chris Knaggs; Bob Kutzenberger; John Williams; Tom Jones; Vince Eikmeier; Al Stafford; Bob Post; James Pentz; Curtis Anderson and Bill Anderson. Will done men!
For 2019 Team Anderson made some modifications to the displays. Instead of using boards and ropes to hang displays, they used cold water pipes and plumbing hardware to hang the displays. This made for a cleaner and more professional look booth. They also made a display for the Clean Sweep Qualifications flags; redesigned the mount for the klaxon and added a Ship Rocker Patch display.
And here are some photos of the 2022 FTOTP
Pictured are Bill Anderson,
Vincent Eikmeier and Joseph Rodrigues
Left to right: Bill Anderson,
Thurman Register Jr.,Christopher Knaggs and Curtis Anderson
Participation by members, family and friends for our Base FDOTP displays is appreciated since this is a full three-day event and Team Anderson needs volunteers to assist with setting up the tents (a day early on Thursday) and displays, as well as standing watches in our display throughout the three days to answer questions about the sub service and recruit qualified submariners who are not members of USSVI or our Base. They also need assistance stowing/unstowing display items every night/morning into their trailer, and then taking everything down, including the tents, and repacking it all in their trailer at the end of the event.
Bill Anderson submits the Exhibitor Registration Form and purchases Attendance Tickets for all volunteers. This is a Base sponsored event so we cover all costs from the Base Treasury - but your help is both required and appreciated in order to make this event a continuing success for our Base.
WHAT?

FIELD DAY OF THE PAST


Base Sponsored Display

WHEN?

September 15th, 16th & 17th of 2023

WHAT
TIME?

Gates Open at 8 a.m. on Friday, Saturday and Sunday

Arts & Crafts, Exhibits, Demonstrations and Displays close at 6 p.m. Friday-Sunday

WHERE?

12000 Patrick Henry Highway (Rt 360)




Amelia Court House, Va 23002


Web Site: https://www.fielddayofthepast.net

HOW DO I SIGN UP?

Send BILL ANDERSON an e-mail by clicking on his name to let him know which DAY(s) and HOURS you would like to help and/or stand a watch

Click on the "Directions" link in the map address box below.

Type in the address you are departing from in the "Choose Starting Point" field on the page that comes up.

This will build a custom map for you which includes driving instructions.
Project Leader Bill Anderson's 2022 Message
Shipmates,
The 2023 Field Day of the Past is just around the corner, September 15th, 16th & 17th. And again this year I'm inviting members to stand a watch manning our booth. The Base will provide tickets for you and a guest.
If you are unfamiliar with the Field Day of the Past, it is fair type event with the following:
• Historic displays, buildings, demonstrations and re-enactments
• Tractor and Truck Pulls
• Small Engine Displays
• Living History exhibits for antique machinery including a sawmill, Wooden spoon making machine and others.
• Arts and Crafts Vendors and a Flea Market
• Antique and Modern Construction Equipment
• Heritage Craft Area
• Sorghum Molasses making
• Carnival Rides
• Animal Exhibits and Equestrian Events
• And Much Much More!
What we need of our Watch Standers is a commitment to either half or all day, Friday the
15th
, Saturday the
16th
or Sunday the
17th
.
You will be "hanging out" with the other watch standers (Base Members), my son Curtis (an Associate member of the base) and me, plus one or two other members and their guest. We use this venue to recruit new members and inform the public of submarines and to honor our Brothers on Eternal Patrol.
There is time for you to go out and enjoy the amenities of the fair. A photo of last year's booth will be posted on this web page soon - but some earlier photos are already posted.
There will be a trailer with air conditioning in case the heat gets to be too much.
If you can't do the weekend, what about Thursday the 14th? Curtis and I will meet up and set up the tent and larger items so the setup on Friday mornings is a lot easier. Let me know. At most this will take two hours, at most.
If you have a piece of memorabilia that would be of interest to either Submariners or a civilian and you would like it displayed, let me know. All of our displayed items do get locked up when we close the booth for the evening.
Come on out and stand a watch (more like a midwatch) like we did back on the boats.
If you have that weekend free, please consider coming out to the Field Day of the Past. Email me to reserve a watch or if you have any questions at
ftb1ss@comcast.net
.
Bill & Sandi Anderson
Submariner - FTB1(SS)
USS Tecumseh (SSBN-628)
SWFPAC, Submarine Base Bangor, WA
USS Kamehameha (SSBN-642)
Safe Cracker
7129 Harver Way
Mechanicsville, VA 23111
(804) 614-6380 (Bill's Cell)
(804) 301-1997 (Sandi's Cell)
Narrative Directions to the Show Grounds
The Field Day of the Past show grounds are located off RT 360 (Patrick Henry Wwy) in the 12000 block. This is approximatly 33 miles south west of Richmond Virginia. Follow the signs.
Additional directions while be posted in the future.
Parking