WEB SITE INFORMATION
This particular version of our rebuilt web site was first published on February 6, 2017 - starting out with pretty much of a "Bare Bones" approach to content so we could get it published using a new stand-alone software program. We hope to post new sections, photos and more comprehensive information for our members as we slowly build it out with our new web editing program - WebSite X5 Professional, by Incomedia. This website, for all practical purposes, takes the place of a monthly or quarterly Base Newsletter - so let us know if you have anything you would like to see posted here.
The new web page header is a high resolution graphic image of the 3' x 8' Base Brow Skirt (i.e. Banner) we purchased and which was used for the first time at the 2016 Field Day of the Past. (
Click here
to go to that page and see the photo)
Since some of our pages scroll down quite a bit, we've added a
button in the bottom right corner of each page that looks like this (depending on the background color of that page of course):

So, if you're at or near the bottom of a screen, simply click on this button and you'll be returned to the top of that page.

We encourage users to look over all of the menu items to see what might be new since they last looked at the site. You can always check to see when the last updates were posted to each page by looking at the date in the top left corner of each page, right under the brow skirt banner.
VERTICAL ACCORDIAN MENU STRUCTURE
To keep the left-side navigation bar from becoming too cluttered we have selected a vertical accordian menu style. When there are more menu buttons contained without a main category button you'll see a small white arrow on the right-side of the button name - like this:

This little white arrow indicates there are additional navigation buttons, i.e. web pages, associated with this single button. Clicking on the button will reveal the other buttons - like this: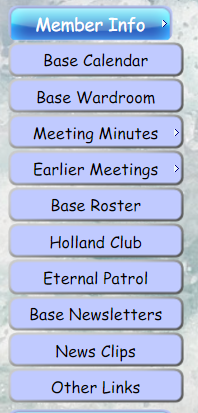 If there are addtional levels within these buttons for some categories, you'll see another small white button on the right-side of those buttons which indicate additional "fly-out" buttons - like this: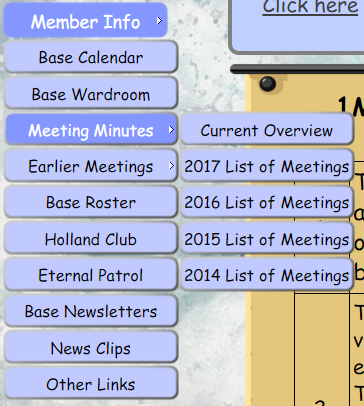 Clicking on a fly-out button will then take you to that web page.
Having said all of the above, the easiest way to learn how the website is organized is to simply click or tap around on the navigation buttons to see what they do. If you are using a tablet or phone, instead of clicking a mouse, you touch the buttons. You can read more about how to use smaller screen devices in the paragraphs that follow.
SCREEN SIZE AND RESOLUTION ISSUES
This new web site renders BEST on large screen PC's and tablets (for example Kenn's Dell 2007 Digital 20" (diagonal) Flat Panel Monitor @ 1600 x 1200 resolution and Kenn's iPad Air 2 with
a 9.7‑inch (diagonal) LED‑backlit Retina display with 2048‑by‑1536 resolution
).
The site does fairly well with smaller screens using Website X5's automatic "responsive" settings, but on ALL small screen devices (for example Kenn's Samsung Galaxy Tab Four Nook 7" (diagonal) screen @ 1200 x 800 resolution or Kenn's
iPhone 6+ 5.5" (diagonal) screen @ 1920 x 1080 resolution), as well as other small screen devices, particularly below 960 pixel resolutions - the top brow skirt banner disappears altogether and the left-side menus are replaced by a three-line menu icon on the top right-side that looks like this:

The various site menu's are accessed by touching this icon which then reveals the various menu choices. On some small screen devices you may have to swipe left to see the resulting menu, which sometimes appears off screen on the right side.
NOTE: When using a smaller screen device, i.e. 7" or less, you may have to scroll certain elements left or right on various pages or within tables; PLUS it's always best to use a small screen device in landscape orientation instead of portrait, as shown here: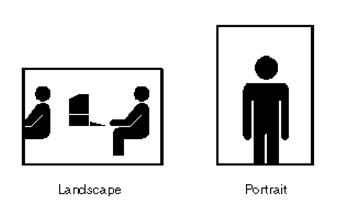 Smaller devices actually switch to a different visual mode when shifting between portrait and landscape orientations and our web site provides the necessary code to accomodate these mode shifts.
Additionally, you may see a small finger icon on some tables and photo panels that indicate a "finger swipe" is necessary to move to the next photo or to scroll sideways to see the rest of a table. That icon may look something like this:

Scroll down to read more about the evolving history of our USSVB Web Site!
Thanks!
WEB SITE HISTORY
The first USSVB web site was created during the "blizzard of '03" when the Webmaster, Kenn McDermott, was snowed in - which would be Feb 15-18, 2003. This initial site was a sub-web of Kenn's personal domain www.pewterguy.com with the address "www.pewterguy.com/virginiabase". As with all web sites it has been under development for quite a while, and will be for the foreseeable future, because all web sites are dynamic in nature and ever changing. Member Bob Kutzenberger later began assisting Kenn with the website.
On March 7, 2003 the domain name "www.virginiabase.org" was purchased and the site was transferred to that domain on March 10, 2003, hosted on a Burlee.com server. Initially the Webmaster put an automatic "Redirect" on the old address (www.pewterguy.com/virginiabase - a subset of Kenn's personal domain), but it was taken down soon after since everyone quickly became familiar with the new address. HOWEVER, - Over the weekend of September 6-7, 2003 yet another domain name was purchased to more accurately reflect the true name of our USSVI Base in accordance with our Charter - which is "www.ussvirginiabase.org". At that time our hosting service (Interland, which purchased Burlee) was 'listening' on both domains (virginiabase.org and ussvirginiabase.org) but when our first domain name expired the web existed on only the newer domain.
On March 22, 2003 the Webmaster changed the base colors of the theme to better match the blue and gold colors on the USS Virginia Seal and then that site blew up on the server and it had to be rebuilt. Getting the colors back was a Webmaster project that never really got resolved on that iteration of the site.
Kenn originally built all of his web sites using the Microsoft FrontPage web editing program. However, Microsoft, in its infinite wisdom, discontinued support of that program and so Kenn shifted to another Microsoft program - Expression Web 4. That was no where near as slick as FrontPage, so Kenn shifted to the free on-line editor our web hosting service (now web.com) provided. The move away from the web.com on-line editor took some time because Bob K. and Kenn evaluated a number of web editing programs before settling on WebSite X5 Profressional.
NOTE ON COSTS
:
Kenn & Bob have shared the costs for the new stand-alone web editing program WebSite X5 Profesional and have not passed those on to the Base. However, the Base has funded the
purchase of the domain names and a hosting service. Kenn McDermott and member Michael Beaver agreed to split the initial costs, and we initially purchased the domain name "virginiabase" from Network Solutions for a three-year period at $25.00 per year for a total of $75.00. Then we purchased web hosting services from Burlee.com for one year at
$155.40 ($12.95 per month) with a one-time setup fee of $39.95. And then in September we purchased ussvirginiabase.org for three years at $25 per year for another total of $75 - plus $9.95 to point to both domains.
Kenn
got the annual plan changed from $155.40 to $107.40 annually on January 14, 2011. We'll always try to get the best price for our Base!
Currently the domain name is renewed every three years, but the hosting service fee is an annual expense. Members who would like to contribute financially to help defer these costs for our web site should send a check to our Treasurer marked for "Web Site Fund". Any amount may be contributed as often as desired. Kenn is billed directly for both of these costs and he then sends the Treasurer the invoices for reimbursement (i.e. the triannual cost of the domain name and the annual cost of the hosting service). Kenn does not charge the Base for his Webmaster services.
Your cooperation and support of this web site is appreciated.