THE OLD SUBMARINER
I sometimes don't know where I'm going, but Oh, all the places I've been.
Wrapped up in a hull made of steel, with a crew of fine sailors locked in.
The missions are lonely and silent, the dangers untold with no yield,
But we still climb down the steel ladders, the hatches above us are sealed....
The sunlight's a far distant memory, fresh air just a dream from the past
The world outside comes in short little bursts, from a buoy or a wire or a mast.
Between drilling and watches and work, there's no place to be secluded
Surrounded by lights and companions, and pressure is always included.
In sub school they taught you the stories, of boats that exceeded design,
And others that found ancient mountains, nearly ending before it was time.
Fires and flooding and things that exploded, in a hull that is closed on both ends,
Add to pressure from not really seeing, what's ahead or around the next bend.
You can hide from the storms in deep places, using thermals and currents as masks.
But if mission requires more exposure, the crew does what the Captain asks.
Sliding silently through the dark ocean, sometimes you forget where you are,
Until you remember there's no moon, not even a glimmering star.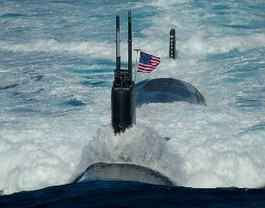 They all wait above you in silence, for the boat to once more breach the waves
In a rush of wild water and motion, escaping a watery grave.
Unless you're an old submariner, it's hard to know what this means
As age dims my mind and my body, I'm back riding old submarines.
I sometimes forget what I'm thinking, but Oh, all the places I've been.
Author Unknown